Engineering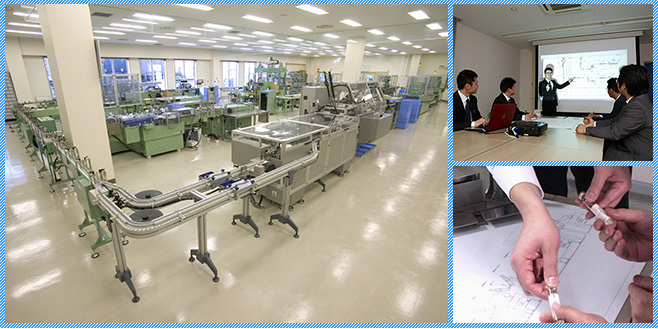 To establish a production line in compliance with strict safety regulations with labor cost savings in mind is essential are requirements in industries such pharmaceuticals, cosmetics and food etc.
Mutual Corporation has traditionally selected machinery most suitable for end-user's production needs, from a shortlist of reputable domestic and overseas manufacturers. We act in the best interest of our customers to deliver optimizations, to meet the required safety standard requirement, to achieve labor cost saving goals and to realize efficiency optimization. In recent years, in response to increasing demand for technological development, product commercialization support, construction supervision and production support etc., We are requested by customers to intermediate between end-users and contractors, as well as between end-users and machinery manufacturers.

Mutual Corporation proposes and implements validation procedures which are indispensable for GMP compliance in the pharmaceutical industry. We provide a comprehensive consulting service on issues regarding GMP and other regulatory compliance, we strive to provide accurate information required for PIC / S revisions etc.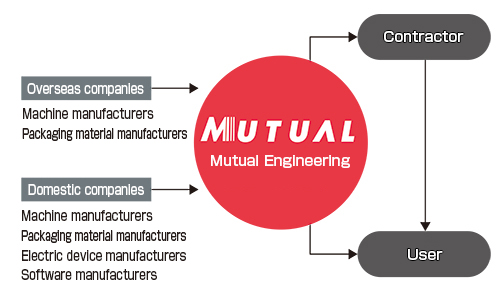 For pharmaceutical plants
Basic Concept

"Production proposal – tailor-made production line that suits end-user's specific requirements"
"Production line designed by putting more emphasis on operator standpoint (reproducibility, operating rate, etc.)"
Applicable equipment

Sterile products produced by aseptic processing and supplementary equipment, sterilization equipment, packaging equipment, inspection equipment, oral solid formulation equipment, liquid preparation equipment, pharmaceutical water equipment, logistics equipment
Service contents

For each process of syringes, vials, ampoules, infusions, powders, capsules, ointments, liquids, tablets, sterilization, packaging etc.

Draft basic concept
Specification documentation, layout design
Eligibility test implementation
Installation & commissioning test
Validation & completion book preparation
Injection ampule filling packaging line
Cleaning
Drying sterilization
Filling
Fusion closing
Sterilization
Pinhole inspection
Foreign matter inspection
Corrugated board
Small-sized box packing
Medium-sized box packing
Cardboard box packing
Injection vial filling packaging line
Unboxing
Bottle wash
Dry sterilization
Filling
Plugging
Foreign matter inspection
Labeling
Small sized box packing
Medium-sized box packing
Cardboard box packing
Palletization
Blow-Fill-Seal (BFS) line
Resin transportation
Molding and filling
Camera inspection
Pinhole inspection
Buffering
Labeling
Packaging
Small-sized box packing
Medium-sized box packing
Cardboard box packing
Palletization
PTP packaging line
PTP packaging
Stacking
Banding
Pillow type packaging
Small-sized box packing
Medium-sized box packing
Cardboard box packing
Liquid filling packaging line (beverage)
Unboxing
Bottle washing
Filling
Capping
Dry sterilization
Cooling
Labeling
Small sized box packing
Medium sized box packing
Cardboard box packing
Palletization
Transdermal patch production facility
Formulation
Plaster spreading
Cutting
Stacking
Square patch packing
Stacked patches packaging
Tablet counting packaging line
Uncasing
Air cleaning
Counting & filling
Chamfering
Capping
Small sized box packing
Medium sized box packing
Cardboard packing
Palletization
Cream filling packaging line
Unboxing
Air cleaning
Filling
Surface leveling
Capping
Labeling
Small-sized box packing
Medium-sized box packing
Cardboard packing
Soap molding packaging line
Extruding (plodder)
Cutting
Stamping
Wrapping
Packing
Palletization
Cooked rice packaging line
Rice supply
Rice rinsing
Rice boiling
Weighing & packaging
Cooling
Pinhole inspection
Cardboard packing