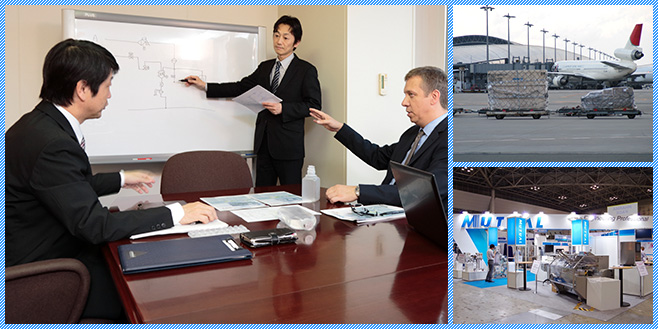 Delivering products, information and technical solutions to meet end-users' diverse requirements
Industrial machinery business
Mutual Corporation's well established global trading network provides us with the competitive edge of connecting the most suitable technology with end-users' needs based on the latest trend in the industry, to select optimal machinery that satisfies their requirements.
In addition to exhibiting our products in overseas and local exhibitions, we also hold regular technical seminars in Japan by inviting leading experts. We continuously take the initiative in passing on updated, vital information to our customers at every opportunity.
At our Osaka and Tokyo Technical Centers we manufacture excellent PTP packaging machines, various inspection machines, aseptic liquid fillers etc. to deliver our customers proposing the most suitable production solutions. Some of the latest machines procured from domestic or overseas manufacturers are exhibited there for machine demonstration and tests. It is also possible to conduct trial production on our customers' production lines in the presence of the customers prior to delivery.
Other business (industrial materials)
The history of Mutual's industrial materials trading dates back to the manufacture of plastic containers for suppositories over half a century ago.
In recent years, we are proposing and offering various packaging materials / materials used in each process of product filling / packaging / logistics packaging with cooperation of many manufacturers.
Main Products
Single-use laminate containment film, forming material for PTP packaging, PTP lidding foil, other lidding material for PTP packaging, resin pellet for aseptic molding and filling system, overwrapping film, peel off tape, carton, label, oxygen scavenger, stretchable film etc.