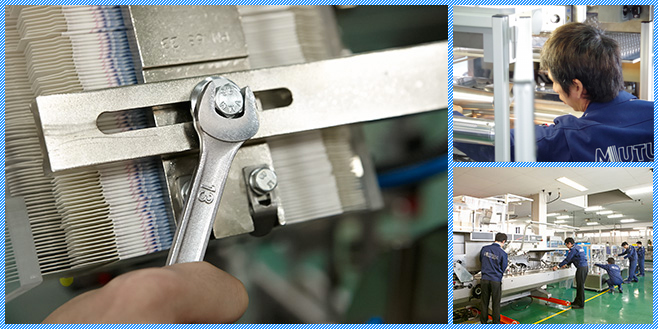 We are committed to provide the support to ensure smooth operation of production equipment and production lines for industries such as pharmaceuticals, cosmetics and food
Since our foundation, Mutual Corporation has put great emphasis on after-sales service to give you stable technical performance. Our Osaka Technical Center, Tokyo Technical Center, Kanto factory are there to provide you with the technical support that you may require.
After each production line delivery, we can also provide "Annual Maintenance Contract" incorporating various service options such as preventive maintenance program, periodic inspection, correction work and troubleshooting support etc. In order to prevent machine trouble rather than cope with it after the actual occurrence, our after-sales service personnel takes the responsibility of taking care of your production facilities.
Not only for our own products but also for imported machines, our technicians deal with various machine problems using their technical skills acquired through technical training in overseas machine manufacturers' factories. It is our advantage as a specialized trading company with technical expertise that you can leave everything to us with confidence after machine installation.
In addition to performance of average machine maintenance, we provide information valuable to preservation and efficiency improvement of our customers' production lines and suggest remediation measures for them. We also try to provide technical service that will add new value to them.