Formulation machine
Liquid filler capper
Rotary type filling machine HL
Rotary type compact filling machine equipped with flxible holders, which is most suitable for manufacturing of wide variety of products in non-self-standing bottles/ easy-to-fall bottles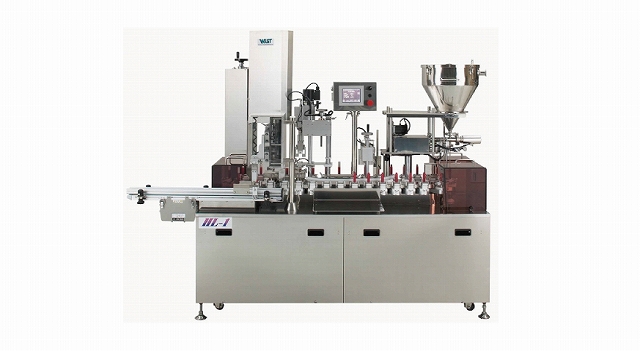 Model:HL
  
Manufacturer:Wist
Advantage
・The newly developed flexible holder incorporates unique link mechanism and curved claw mechanism that apply pressure to hold and transfer bottles. The versatile design of holder stably transfers unstable bottles (e.g. mascara bottles) that may have tall center of gravity and unevenness in diameter
・Rotary type machine with single or double filling head transfers bottles in smooth intermittent motion, and the machine with quadruple or sextuple head transfers them in stable continuous motion
・By accommodating each components within the round platform, remarkable space saving and ease of maintenance can be achieved
・Since a series of processes including filling, rubber stoppering, capping and automatic discharge are completed within the round pletform therefore it can be installed in a narrow working space, making it ideal for installation in a clean booth
・Memorizing up to 99 product types including filling, capping, height and other parameters
Specification
HL-1Ms
HL-2
HL-4TR
HL-6TR
Output
30 bottles/min.
40 bottles/min.
60 bottles/min.
Filling method
Rotary degasing filling
Level monitoring filling
Filling volume
3.0~33.0㏄
5.0~88.0㏄
10.0~550.0㏄
Number of filling heads
Single
Double
Quadruple
Sextuple
Inner Plugging
Yes
Capping
Servo capper
Automatic discharge
Yes
Base machine
Intermittent motion
Continuous motion
Applicable products
Mascara, eyeliner, lip gloss and facial liquid foundation
Liquid sample and liquid cosmetics in small bottles
Common liquid cosmetics
Options
Automatic bottle, inner caps and outer caps supply mechanism. Total collection system of production data (analyzer). Bottle-reversing air washing machine.