Formulation machine
Liquid filler capper
1 person filling capper WR-1FC
Requires only one operator to fill and cap bottles and spout pouches which are typically difficult to process with conventional machines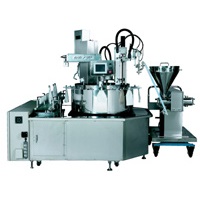 Model:WR-1FC
  
Manufacturer:Wist
Advantage
・Incorporating a design layout which consolidates both supply of material and visual inspection to the same working space, that enables a single operator to perform filling and capping operations with one hand, delivers a massive reduction in labor cost.
・Bottles which cannot stand upright on its own, unstable bottles and spout pouches can be firmly fixed into place by 8 clamps for filling and capping operations.
・Preventing bubble generation by vacuuming pouch prior to commencement of the filling process.
・Bottles are filled following liquid level to avoid bubble generation.
・Cappers are fitted with servomotor which offers superior repeatability and compatibility for new products.
・The entire operation is controlled by AC servomotors, there is no need for replacement parts such as cams. Capable of memorizing up to 99 product recipes, easy to control and fine-tune the filling upon changes of liquid's viscosity.
・Newly developed platform can be equipped with all devices, which dramatically improves operation and maintenance efficiency.
Specification
Main unit
Production capacity
10 to 20 per min (subject to liquid viscosity and operator's skill)
Base machine
Hollow type 8 divided index
Stages
Selection from stages for spouts, bottle holders or caps
Filling section
Filling method
Spout: Vacuuming, designated volume fill
Bottle:Liquid level following, designated volume fill
Filling volume
Selection from 5.0 to 330.0 cc, 10.0 to 550.0 cc or 20.0 to 1100.00 cc
Number of memorable product recipes
99: For filling amount, speed, smoothness, suck back and lifting position
Materials in contact with liquid
SUS 304, Viton, resin (SUS 316 available upon request)
Capping section
Capper
Servo controlled capper
Torque setting
0.8~4.0Nm digital settings
Options
Bottle capping device, mini pickup robot, rejection conveyor